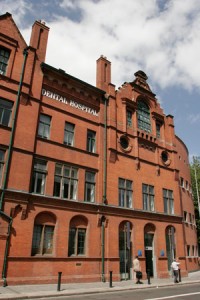 The Dublin Dental University Hospital has a 110 year history of providing patient care and dental education.
The Hospital has been in Lincoln Place, Dublin 2 since 1899. The original dental hospital "The Incorporated Dental Hospital of Ireland" was established in 1879 and was located off St Stephen's Green. The hospital moved to its new, purpose built dental hospital in Lincoln Place in 1899. The decision to establish a Dental School had been made in 1882 and its first Professor of Dentistry, Theodore Stack, was appointed in 1884.
1940 – 1990 was a long and difficult period of uncertainty for the Hospital during which it became difficult to recruit staff due to rumours of closure. Prior to 1980 little, if any, original research was carried out at the Hospital. The decision to retain and rebuild the Dublin Dental Hospital was announced in 1994, thereby ending 50 years of uncertainty.
The Hospital has twice undergone very significant capital development. A new clinical building and the old hospital's refurbishment was completed in 1998. This building subsequently won architectural awards both in Ireland and in the United Kingdom.  New educational facilities including a Library, seminar rooms and academic offices were built in 2010, following the purchase of additional buildings on Lincoln Place.
Over the last 110 years the DDUH has evolved to meet the needs of its patients and students, by developing new facilities, introducing new services and building new relationships to provide the best possible dental service to the people of Ireland.
Since 1998 the Trinity College School of Dental Science has been located in the Dublin Dental University Hospital.