End of year RAMI - Thank-you
By
dhadmin
Friday, 31st July 2020
Filed under:
Dear All,

Thank-you so much to the attendees of this academic years Odontology Section RAMI meetings. Despite the pandemic lockdown restrictions, we enjoyed a very successful year, which included a packed house and a very warm welcome for our locally and internationally acclaimed speakers at our February meeting. The audience was clearly overwhelmed following the powerful clinical presentations from Dr Gerry Cleary, Dr PJ Byrne, Dr Marielle Blake and Dr Patrick Palacci which highlighted the possibilities and new heights which can be reached when interdiciplinary colleagues combine their efforts to realise clinical excellence. 
Some photos from the evening are on twitter. 

Looking forward to seeing you all at the next meetings during the 2020-2021 academic year.

Best wishes,
David McReynolds
Odontology Section Secretary RAMI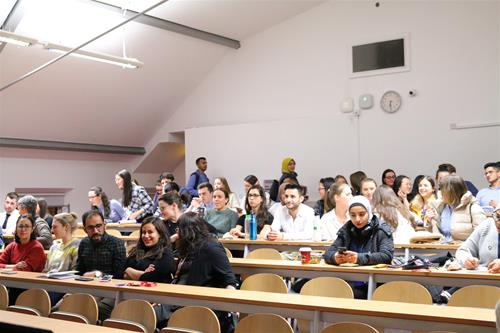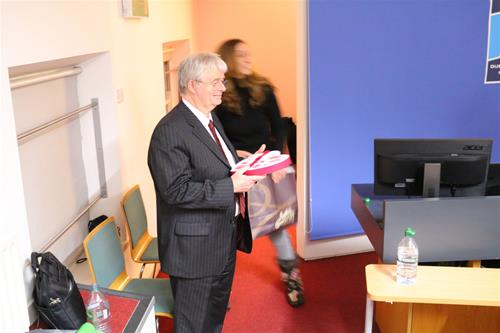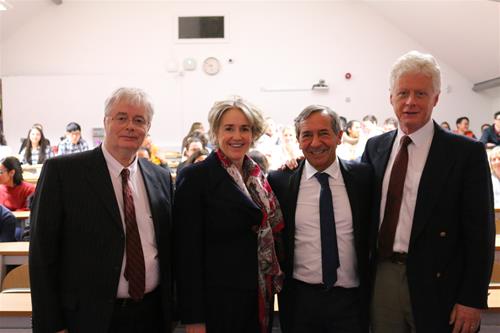 Biographies:

Dr Gerry Cleary:
Gerry Cleary completed his Fellowship in Dental Surgery at Edinburgh (1987) and the M.Sc. Programme in Prosthodontics at Indiana University. Since then he maintains a private practice limited to Prosthodontics and a lecturer (part-time) position at the University of Dublin, Trinity College, teaching graduate prosthodontics.
Recently Gerry was awarded the inaugural Dean of Health Sciences Award TCD for outstanding teaching in professional practice. Nominated by students and staff members the award recognizes the valuable contribution of individuals who excel in teaching and encourage an ethos of excellence in clinical teaching.
Gerry has served in many voluntary (honorary) positions including: Treasurer, Chair (Audit and Finance), Vice-Dean of the Faculty of Dentistry RCSI and Treasurer (1999-2001) and President of the Irish Dental Association in 2006. Currently he sits as the RCSI representative on the Dental Council of Ireland and is Vice President and a member of the Executive committee.
His free time is occupied with family life and playing tennis.

Dr PJ Byrne:
DR.  PATRICK J. BYRNE, B.D.S.N.U.I., M.Sc. (Lond.) F.D.S. R.C.S., (Ed.) F.F.D.R.C.S.I., F.I.C.D.
Dr. P.J. Byrne graduated in Dentistry in 1982 from University College Cork. He held various hospital appointments 1982 – 1989 in Ireland and UK. In 1990 he completed his MSc at the Eastman Dental Institute in Periodontology which was awarded with distinction from the University of London. He was awarded the Sir Wilfred Fish Research Prize by the British Society of Periodontology in 1990. In 1991, he was elected by examination F.D.S. Royal College of Surgeons, Edinburgh and F.F.D. Royal College of Surgeons in Ireland. He has been in referral practice in Dublin in Periodontology, Oral Surgery & Implant Dentistry, and lecturer in Periodontology at Dublin Dental School & Hospital, Trinity College since 1991 and Assistant Professor in Periodontology (Part-Time), Trinity College Dublin. He is Director of the Programme for Clinical Dental Photography since 1998. He was a locum Consultant at Beaumont Hospital, Dublin 1992 – 1998, President of the Irish Society of Periodontology from 1998 –2000. He was awarded an F.I.C.D. by the International College of Dentists in 2002 and elected a Fellow of The Pierre Fauchard Academy in 2008.  He was elected to the Board of the Faculty of Dentistry, RCSI in 1999 where he was Vice-Dean 2004-2006, and Dean 2007-2011. He was President of the Irish Dental Association 2016-2017. He lectures widely nationally and internationally. He has a particular interest in Risk Factors associated with Periodontal Disease and the Periodontal Systemic Interface.

Dr Marielle Blake:
Dr. Blake graduated from the University of Dublin, Trinity College in 1985. Following successful completion of her FDS she was accepted onto the Orthodontic training program at the University of Toronto graduating in 1992. Following her time in Toronto Dr. Blake moved to the UK where she worked as an orthodontic registrar in Guildford. She then completed her Senior Registrar training in Dublin . Dr. Blake is currently a consultant Orthodontist based in the HSE Simms building, Tallaght. She has a teaching commitment in the Dublin Dental School and also maintains a private practice in Dublin
Dr. Blake's interests lie mainly in clinical orthodontics and teaching.

Dr Patrick Palacci:
Dr Palacci is a private practitioner in Marseilles and is at the head of Brånemark Osseointegration Centre in Marseilles, having worked in very tight relationship with Professor Per-Ingvar Brånemark. He is also working in Monaco in collaboration with Professor Claude Pallanca. He developed several techniques in relation with optimal implant positioning, papilla regeneration technique and aesthetic implant dentistry. He is the author of numerous scientific articles and two textbooks published by Quintessence in 1995 and 2001 'Esthetic & Implant Dentistry' translated in French, German, Italian, Spanish, Portuguese, Polish, Korean and Japanese. Another book related with Nobel Guide technology: 'Immediate Esthetics' written together with Dr Peter Moy and Dr Ingvar Ericsson. He also wrote a chapter in the "Oseointegration Book" (P-I Brånemark).
Dr Palacci got the first NobelPharma Award in 1995, voted by an international scientific committee and given by P-I Brånemark, in recognition of the most important advances of the last 30 years. Patrick Palacci presented his concept for optimal implant positioning in order to achieve optimal aesthetics and function, as well as papillae regeneration technique, which is now recognized worldwide.
Dr Palacci was then invited worldwide to present his concepts in hard and soft tissue manipulation, precision in implant positioning in many universities, scientific academies and organizations. Dr Palacci presently conducts a number of courses in his private clinic. He has been invited as a speaker to scientific meetings all around the world:
In Europe: France, Belgium, Ireland, UK, Sweden, Denmark, Norway, Finland, Germany, Poland, Italy, Portugal, Spain and Russia, South Africa ,Reunion Island, South Arabia, China, Hong-Kong, Taiwan, Japan, Australia and New Zealand, South America: Brazil, Argentina, Chile and Peru, Canada, the United States: New York, Boston, Chicago, Washington, Miami, Atlanta, Dallas, Los Angeles, Las Vegas, Sand Diego, Tampa, Hawaii etc.
Patrick has a long association with Ireland and has presented numerous Surgical Implant Courses in association with Dr. P.J. Byrne in Dublin. He has delivered numerous presentations at the Faculty of Dentistry Scientific Meetings and was awarded the Edward Leo Sheridan Medal by the Faculty and awarded an F.F.D R.C.S. (Ad Eundum) in 2012. He has presented at the Irish Dental Association Annual Scientific Conference. He has contributed significantly to the advancement of Soft tissue Management in Implant Dentistry.