Recent Graduations June 2018
By
dhadmin
Thursday, 5th July 2018
Filed under:
The Dublin Dental University Hospital would also like to congratulate the following Postgraduate Students  who graduated from TCD on Friday the 22nd of June 2018 from the Registrar, Professor Paula Murphy at a ceremony in Latin in the Public Theatre.
Dr Aoife O'Connor recently completed her Ph.D. under the supervision of Dr. Brenda McManus and Professor David Coleman from the Microbiology Research Unit in the School of Dental Science.
Aoife's Ph.D. investigated populations of the bacterial species Staphylococcus aureus and Staphylococcus epidermidis in the oral cavities of healthy individuals with and without dental implants, and in patients with periodontal disease and/or peri-implantitis. Aoife's research showed that S. epidermidis predominated in the oral cavity and was frequently isolated from diseased oral sites. These diseased sites are low in oxygen and acidic and therefore should not support the growth of staphylococci. Whole genome sequencing (WGS) of the oral S. epidermidis isolates revealed that many harboured a mobile genetic element known as ACME, which is known to enhance the ability of S. aureus to colonise human skin and cause disease. This research contributed significantly to the evidence that ACME evolved in S. epidermidis and was subsequently transferred to S. aureus. The application of WGS to this investigation revealed the presence of two new ACME elements (named ACME types IV and V respectively) in S. epidermidis for the first time, highlighting the benefit and superiority of WGS in microbiological research.
Aoife's research revealed a significant enrichment of S. epidermidis harbouring a diverse range of ACMEs in diseased oral sites, suggesting that ACME contributes to the survival of S. epidermidis in these poorly-oxygenated sites. It is likely that oral S. epidermidis constitutes a significant ACME reservoir for potential transfer to S. aureus, likely enhancing the ability of S. aureus to cause infection. Aoife's Ph.D. research contributed to the publication of three original scientific research articles in international peer-reviewed journals.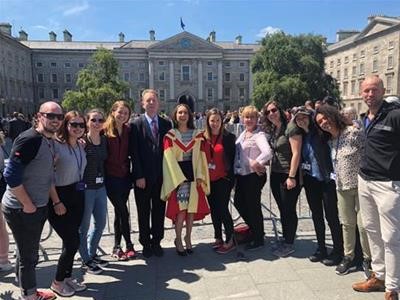 Members of the School of Dental Science Microbiology Group- L-R, Peter Flanagan; Sarah Egan; Jessica Fletcher; Elaine Moloney; David Coleman; Aoife O'Connor; Brenda Mc Manus; Mary O'Donnell; Emily Deasy; Megan Earls; Erica Cirrone; Peter Kinnevey.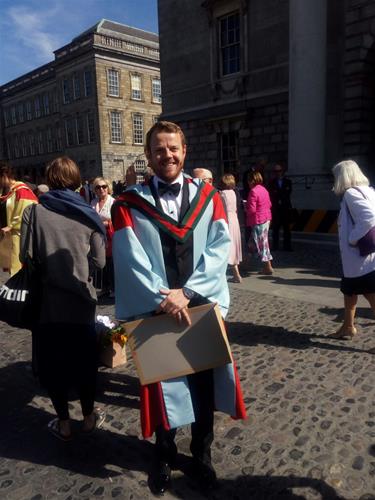 Dr Rory Boyd who received his D.Ch. Dent Award (Prosthodontics) also on Friday 22nd June 2018.  Dr Boyd's research title was "An investigation into the effectiveness of a telehealth approach on compliance with an occlusal splint in bruxism patients".