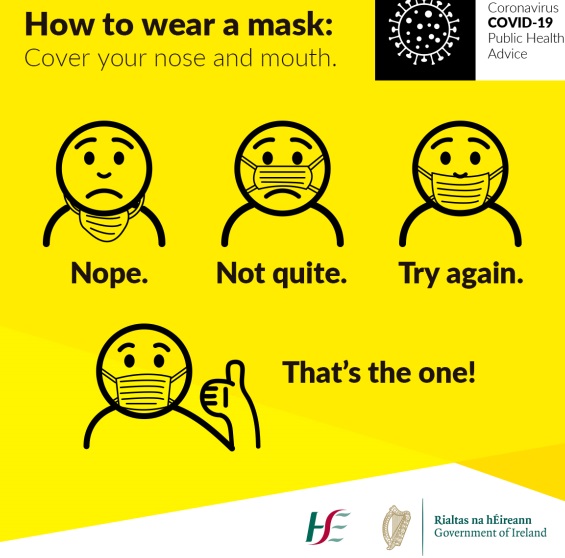 Do I need to wear a mask or face covering?

Following Government guidelines, it is now mandatory to wear a mask when attending the Dublin Dental University Hospital. If you have a medical condition that prevents you from wearing a mask, the DDUH requires a letter of confirmation from your doctor, which you should present at your appointment. Alternatively, you may email your conformation letter to Patient Services prior to arrival at the hospital.

In addition, please note that face masks/coverings by children aged 9 years and above also applies when attending Dublin Dental University Hospital.  NPHET has recommended the wearing of face masks/coverings by children aged 9 years and above in indoor public settings. This measure is being introduced on a temporary basis and is subject to review in mid-February 2022.

If you do not comply with this request you will not be permitted to enter the Hospital.

These restrictions have been put in place for reasons of public and patient healthcare safety, to minimise the possible spread of Covid-19.

The DDUH regrets any impact that this will have on our patients however, these new arrangements are necessary to deal with the effect of Coronavirus (COVID-19). 

How should I wear a mask or face covering?

Your mask should fit and cover your nose/chin.

Avoid touching it whilst wearing it.

Please wear your mask until your dental treatment commences, we will then indicate to you when to remove it.

Replace your mask as soon as possible after treatment.

What should I expect on arrival at the DDUH?

On entry to the building, the DDUH requests that:

Patients show proof of their appointment;
Wear a mask;
Sanitise your hands;
Keep your social distance.

In order to provide safe care to all patients attending our outpatient services, we kindly ask that you arrive no more than ten minutes before your allocated appointment time to comply with national guidelines.

The hospital will refuse entry to all patients who do not act in accordance with with the mandatory wearing of face masks or coverings.

Can a person accompany a patient to an appointment?

You should attend your appointment alone. In the interest of safety, a patient should only be accompanied to an appointment by another person when it is absolutely necessary.

If you require assistance, please contact us in advance to discuss.

If a patient is over 16 years and needs assistance for medical reasons, one other person may accompany them.

Only one parent/guardian may accompany persons under 16 years.

No additional children may accompany a minor to their appointment unless they also have an appointment.

When should I not attend an appointment?

If you have any of the symptoms of Covid-19 as set out below, kindly stay at home and contact your GP.

If you are awaiting a result from a Covid-19 test.

If you had any contact with a confirmed or suspected case of Covid-19 within the last 14 days prior to your appointment date.

What Covid-19 symptoms should I be aware of?

Cough (new/worsening)
Temperature/fever
Difficulty breathing
Shortness of breath (new/worsening)
Tiredness
Aches & pains
Nasal congestion
Runny nose
Sore throat
Diarrhoea
Confusion
Loss of appetite
Loss of taste and smell

What infection control procedures should I follow when I attend the hospital for my appointment?

Use the hand hygiene gels in the hospital foyer and/or at the entrance to the clinical areas.

Cover your nose and mouth with a tissue when you cough or sneeze and put used tissues into a general waste bin.

Wash your hands after you dispose of a used tissue due to sneezing or coughing.

Use hand hygiene gel before leaving the Hospital.

A&E and Out of Hours Service Information

From Monday August 24th 2020 normal A&E procedures will be in operation. For information on this and on details of out of hour's service, please click here.

All patients whose appointments were cancelled will be contacted by the DDUH.

For more information on Coronavirus (COVID-19) please see the HSE website here or the Health Protection Surveillance Centre here.

You can also call the HSE helpline on 1850 241850 for more information.